by Jason L
If you have are starting a new website, you want to find some way to generate traffic.  Just telling your friends to tell their friends isn't going to result in a ton of traffic.  Even worse, it isn't going to generate much revenue.  There are two important ways to generate traffic.
What are these two ways?
The first is by use of SEO, or Search Engine Optimization.  More specifically, we will be dealing with organic SEO.  What makes it organic is that this is generated by use of the site.  Organic SEO is composed of three main parts:  keyword research, copywriting, and link building.  Keyword research is a process of researching any keywords that your visitors might type into a search engine to find a site such as yours.  Copywriting means to actually create the content that relates to the keywords you create.  Finally link building is the process of networking so visitors can find your site through other sources.  This can include posting on blogs, social networks, or even discussion boards (Britsios, 2010)
When it comes to creating your content for organic SEO, there are a few tips.  Meta descriptions and Meta keywords, albeit they may seem outdated and tedious, are actually very important.  Another important aspect is the title tag.  Make sure to give provide your company name, best keyword, and what your page is about (Breit, 2013).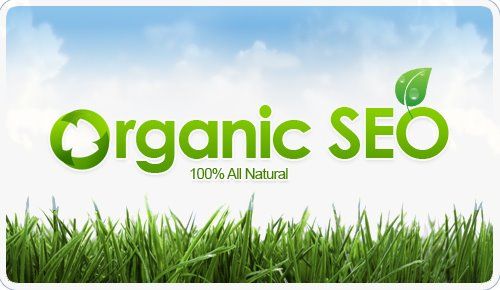 (image taken from webpresencegroup.net)
The next manner of generating traffic is by use of pay-per-click.  Pay-per-click works similar to an auction.  The advertiser bids on keywords or phrases they think users would search for when looking for a good or service.  The site name is the displayed in search results, often to the side under "sponsored links" or "sponsored ads".  The advertisers only end up getting charged each time their link is clicked, hence the "pay-per-click" name ("What is Pay Per Click? – Define Pay Per Click," n.d.).
Which method is better?
To start, Organic SEO is much cheaper.  You would pay a one-time fee up front (generally with the design of the site) in order to set it up.  As you promote your site on other various media sites, you contribute to its value.  The results are also generally more reliable.  Even more important, these results are permanent.  Roughly 4 out of 5 users will click on a natural link before they click on a pay-per-click (sponsored) link. (Adams, 2009).
The bad side of organic SEO?  These results can take months to yield results (Saumure, 2013).
On the other hand, Pay-per click links are quicker to get results.  Pay today, get results tomorrow.  Because you pay for your results, you also can change the way it appears in search engines.  However, the second you get outbid for the keywords you pay for, your position in the search engine drops.  If you were to quit paying altogether, your results drop off completely (Adams, 2009).  Even worse with pay-per-click, these "advertisements" are treated as ads by users.  Often times, they are blocked using ad block software, or just ignored completely to go directly to the organic links (Saumure, 2013).
In other words, each method has its benefits.  If you are using one, should you abandon it for the other?  The short answer is no.  If your organic SEO has your site listed #1 on Google, why would you want to stop plugging your site to generate more traffic?  If your pay-per-click is converting clicks into paying customers and covering its cost, why quit? (Adams, 2009).
What I have found is that while building a new site, it is important to implement the concepts of Organic SEO.  This will lay the foundation of your web presence for years to come.  However, it might be smart to invest in pay-per-click services to start in order to generate new visitors. The choice is yours and yours alone on which methods you choose to use.
Sources:
Adams, P. (2009, April). SEO vs. Pay Per Click Advertising by Vertical Measures. Vertical Measures. Retrieved May 19, 2013, from http://www.verticalmeasures.com/search-optimization/seo-vs-pay-per-click-advertising/
Breit, N. (2013, February). 5 100% Organic Tips: How To SEO | Sparrow Writing + Editorial | Sparrow Writing. Retrieved May 19, 2013, from http://www.sparrow-writing.com/sparrows-top-5-organic-seo-tips/
Britsios, J. (2010, March). What is Organic Search Engine Optimization (SEO) – SEO Workers. SEO Workers. Retrieved May 19, 2013, from http://www.seoworkers.com/seo-articles-tutorials/organic-search-engine-optimization.html
Krüger, A. (2013, March). Why Pay Per Click Is Such A Beautiful Tool For SEO. Search Engine Land. Retrieved May 19, 2013, from http://searchengineland.com/why-pay-per-click-is-such-a-beautiful-tool-for-seo-150401
Saumure, N. (2013, April). Organic SEO or Pay-Per-Click?…That is the Question! Prosar Inbound. Retrieved May 19, 2013, from http://www.prosar.com/inbound_marketing_blog/bid/177405/Organic-SEO-or-Pay-Per-Click-That-is-the-Question
What is Pay Per Click? – Define Pay Per Click. (n.d.). Brick Marketing. Retrieved May 19, 2013, from http://www.brickmarketing.com/what-is-pay-per-click.htm